Just before 2021 rolls out, we have some exciting, re-vitalising news to share, after a long period of silence.
With the latest Gutenberg versions, a new potential for content design has emerged in the WordPress ecosystem. This potential expects a consensus towards simplicity, accessibility and efficiency, primarily in the way we create themes.
More than ever, theme designers are going through a fundamental shift in workflows, logic, and contextual awareness. Our mission carries a significant weight towards our users this time, as we all earn, adapt and contribute for the best, into an ecosystem that moves with an extremely fast pace.
New website design
If you haven't noticed already, our site has new looks. Since 2013, this is version 6 of our site design. And it was definitely time for a pixel-based facelift, since the previous design was live for almost 3 years.
Theme Delivery
We have terminated the exclusivity with Themeforest, and now all our themes are available at our own website. We needed this flexibility since a very long time, and now we expect to consolidate our delivery channels in the near future, and maintain our website only for distributing and marketing our theme collection.
If you are an existing ThemeForest customer, nothing changes for you, the products are supported and it's business as usual.
If you are not a customer yet, join thousands of happy campers and pick a plan.
Theme Bundle
Theme Bundle pricing is now available upon popular request. Now you can get the entire theme collection and future themes for an un-beatable price. A lifetime plan is also available for those who want to enjoy themes and support for a one-off payment.
Make sure to take advantage on these discounted prices while our Black Friday Sale period is on. More info below.
Compatibility
We recently completed a massive revision and compatibility treatment for all our themes with the latest WordPress and Gutenberg versions. Want to use your favourite page builder with our themes? You can surely do so as well.
Black Friday Sale
To celebrate all the above, we are offering a limited-time Black Friday Sale discount of 20% 30% and 40% on our Single, Bundle and Lifetime plans respectively.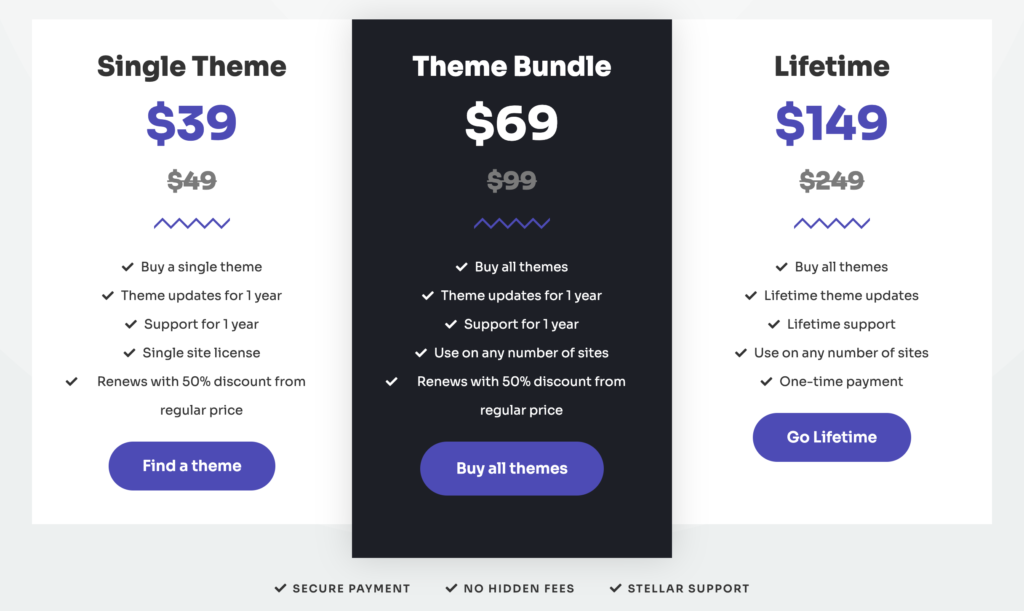 The discount period starts today Tuesday, November 24 and will last until Wednesday, December 2.
Check out our Pricing Page.
Roadmap
Our focus shifts on super-minimal, gutenberg-ready themes that make the best possible use of Gutenberg layout building features, matched with intuitive Global theme options.
Since 2013, we have followed the wave and consensus of WordPress theme design and managed to stay aligned with efficient solutions that put user's content first. Design decisions are taken, so our customers don't have to.
As we are currently in the final phase of submitting a WooCommerce theme to the official catalog, we are adapting the knowledge and high standards to the creation of upcoming themes for the Codestag collection.
We can't wait to explore what Gutenberg brings for the future, and we are committed to provide consistent, stylish solutions in the form of WordPress themes for the Gutenberg epoch.
Stay tuned for updates and new themes, and do not forget to make use of the exclusive Black Friday pricing before it ends.
Thanks for your support
Team Codestag