start publishing in minutes
A beautifully easy way to start your WordPress blog
Offering the perfect balance between aesthetics, usability and just the right amount of customisation options, Blink gives you the tools you really need to create a stunning blog the easy way.
Blink is a lightweight, handcrafted blogging theme, that is based on WordPress coding standards, following the best practices in the industry. Responsive and device agnostic, Blink will make sure that your content stays engaging on any device.

Easy, meaningful settings
With only a handful of strategic options under the customizer, Blink is super flexible and easy for all levels.

User Centered
Easy, native content management and a design that is optimised for readability and consistency.

Easy Content management
Edit and update your content easily, within the native WordPress content management flow.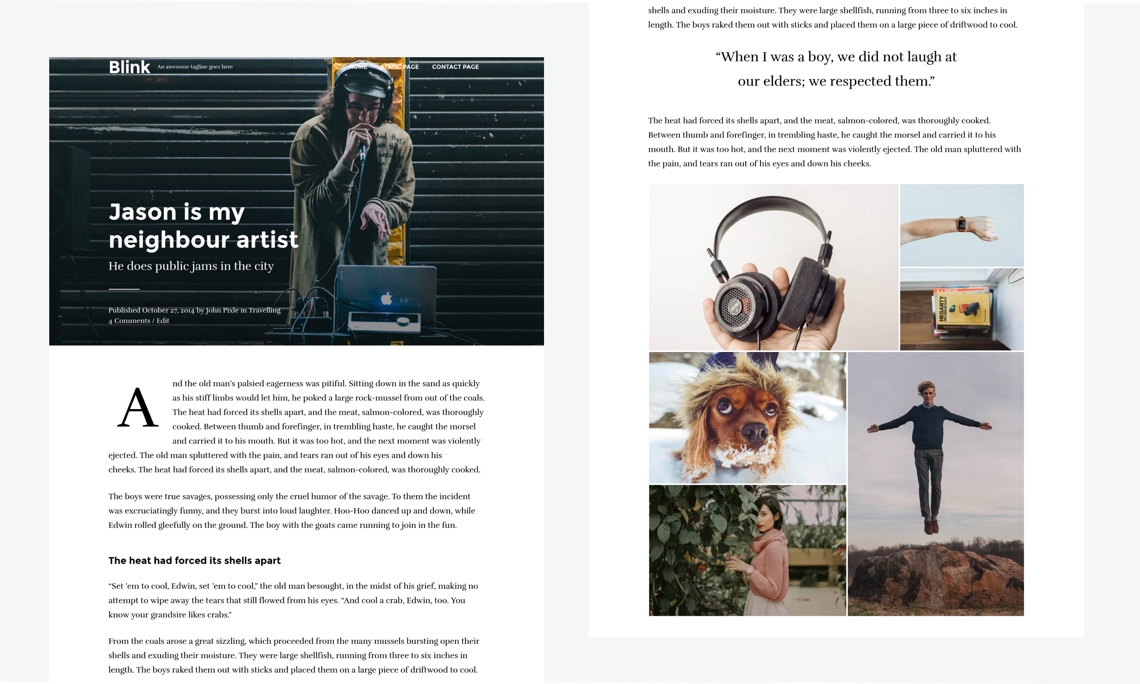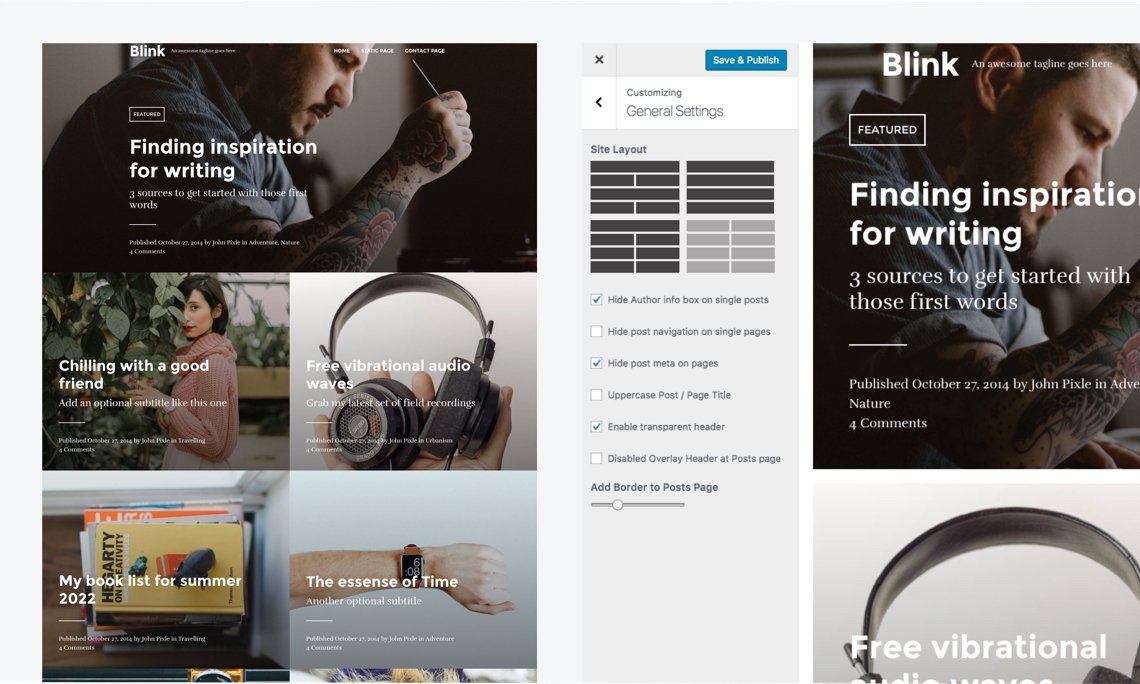 lightweight, future proof, beautiful
Great design right out of the box
Blink is an ideal WordPress theme especially for entry-level users that do not want to go through time-consuming theme setups. With strategic Customizer options, you can customize many aspects of your site on the fly, and enjoy a stunning layout that embraces your content. 
Experienced users will appreciate the simplicity, lean structure and attention to detail that allows to safely extend the theme with plugins and custom tweaks.
What makes Blink so awesome
we stand behind our products
Kind words by happy users
"…When you invest in a theme from Codestag, you are investing surefire solutions for your personal or business requirements, at a fraction of the price with the highest quality available. This is the best it ever gets….."

"…Codestag is my go-to source for WordPress themes. I've used them to build my own portfolio site, along with sites for small businesses and global consultancies. No matter who it's for, Codestag themes always deliver a great experience….."

intuitive, flexible, easy to use
Start your WordPress site with a Codestag theme
not the theme you are looking for?
Browse our theme collection
plenty of reasons to choose a codestag theme
Packed with standard features

Adaptive Layout
Responsive design and layout that adapts to any device, so your content can shine everywhere.

Live Customizer options
All options are integrated in the built-in live customizer, providing only the flexibility you really need.

WordPress standard coding
Solid, experienced coding, following all WordPress best practices. Developer friendly and future-proof.

Sharp Design
Themes that are polished, user centered, and consistent. A design system that serves a purpose.

Online documentation
All our themes come with easy-to-follow documentation which is accessible online, and written using simple terms.

Dedicated support
We personally stand behind our products, offering e-mail based, top notch support, to all customers

Easy to setup and manage
Pixel perfect, original design systems that are consistent, and make sense for your website visitors.

Typography and color control
Use any font from the Google Web Fonts library. Customize key colors easily to match your tone and branding.

Frequent updates
We frequently update our themes to keep them in tune with the latest industry and security standards.