Running a business in the online world is quite hectic, business owners or webmasters are always striving to get ahead of their competitors.
Hence they see many ups and downs while trying out new strategies.
In this digital world having a lightning speed of a website is very beneficial which can be achieved by having a good host, but there are a lot of other things involved in running a website such as how user-friendly is the content of your website, size of image files, etc.
Tools are made to enhance the productivity of the work being done, similarly, SEO plugins are also precisely developed to completely optimize a website to maximize their desirable results.
SEO optimization is basically all about optimizing a website according to the terms and conditions of a search engine.
As the competition in the online world is growing, many business owners are finding out different ways to rank higher on SERPs.
After all, SEO is the ideal way to promote a new website, or an old website rank higher on SERPs.
No matter a webmaster is looking to go through sponsored ad campaigns or a free-way which is SEO strategies, ultimately both the ways require a website to be optimized under the best SEO practices.
One of the unique factors of WordPress being the top platforms for webmasters is due to its wide library of plugins.
Just like a car needs motor oil to run smoothly every now and then, similarly, a website needs plugins to improve the existing functionality.
Hence, plugins are a necessity to run a website smoothly, effectively, and with minimal errors in it.
Why do webmasters need Plugins to run their website?
To stay on track, be accountable
Looking for errors
Find out broken links
Properly organize the site structure
Inserting Meta-tags
Optimizing the readability and engagement level of a content
Organize efficiently the top pages to restrain users from bouncing off to another website
Obviously, this requires a lot of time and expertise, simply anyone can't do it. But when webmasters are packed up with the précised tools and the right knowledge to implement those tools, they are moving in the right direction to search engine success.
In addition to it, rushing into the plugin store and downloading all the plugins are not going to improve the functionality of a website, certainly, these plugins drag the speed of a website.
Hence minimizing and utilizing the best plugins is the ideal way to beat your competitors in the digital market.
Below are the top Word Press plugins that are low on dragging the speed and leading role players in enhancing the functionality of a website.
Top 5 plugins to make your WordPress website SEO optimized
1) Elementor
A landing page is very essential for any website, after all a user perceives the first impression of a website through a landing page.
Normally a website is run on a particular theme, but elementor allows a webmaster to beautifully design or customize every webpage individually.
It has a wide library full of free templates, to instantly help web owners to create unique webpages.
On the other hand, it also has an advanced mode where it allows the web owner's to precisely set the tone of a webpage through doing things like:
Adding new elements
Designing the structure
Creating mobile-friendly designs and controls
Hence using this tool is certainly going to give a web owner a paintbrush in his/her hand to designing beautiful visuals on every inch of a webpage.
2) Prepostseo
Prepostseo is a pro-level plug-in for eliminating SEO errors and mistakes on a website that is running risk into Google standards.
The main focus of this plugin is on analyzing each content uploaded on the website, like in Blogs, articles, posts, comments, and feedback.
One of the main reasons why industry experts recommend this plugin is due to its high detecting powers of plagiarism checking expertise.
For web owners there are a lot of things they need to check regularly at the back end of a website, this certainly is a daunting task.
But this is where this plugin comes into play as it helps the web owner's in replacing all those errors one by one with real-time suggestions.
Other features included are as such given below:
It checks the quality of the content or post
Notifies the web owner by showing any duplicated content along with a detailed report
It features an article spinner to resolve plagiarized content
It highlights spelling and grammatical mistakes to furbish written content and make it more human friendly
Checks the characters, keyword density, and readability score which helps in writing amazing content
Shows the SEO score of your websites such as Domain authority, spam score, etc. 
Analyses Meta tags, titles in the live preview
Gets deeper into finding out any broken link on a website for any post or any image.
Anyone looking to go in-depth SEO optimizer for his/her website overall quality, especially while content writing, blog posting, it's a handy tool for their WordPress website to get an edge against their competitors.
3) WooCommerce
Word press website owners must be familiar with the WooCommerce plugin, it's famously known for providing e-commerce services.
Any webmaster looking to build an online store on word press websites must use this plugin, as it makes the journey of an e-commerce store very easy.
This plugin is specifically built for commercial purposes, so it offers additional features and extensions which are paid as well as few free ones.
Running an online store is a very hectic process but through using this plugin everything seems easy to understand, easy to organize, and manage.
One of the greatest advantages of this plugin is its flexibility of customization options.
Additional features:
It gives business owners a platform to do their day to day activities all at one dashboard
From invoicing to selling, from marketing to creating progress reports it offers all this with minimal fees but it varies from service to service
It allows multi-channel payment gateways which ease the transaction procedures
It offers marketing services like email marketing, etc.
It's basically heaven for e-commerce owners, you can get all the things managed from this platform.
4) Yoast SEO
Yoast SEO is one of the most popular plugins of Word Press website, it assists in offering top-notch SEO services to optimize a website according to the terms of SEO.
Additional features:
Easy to use even for students
It helps in writing titles, Meta tags, and descriptions
The errors are highlighted with explanatory notes to improve with it
Connects in real-time with Google search console to show webmaster how exactly a particular content or activity looks on Google SERPs
Built-in Content and SEO analysis characteristics
With the premium package, it allows content insights, free support, and ad-free interface
Many experts prefer Yoast as their first option when analyzing content and restructuring the website SEO friendly and google-able.
5) Jetpack
Jetpack is an awesome tool for people who are looking for multipurpose tools that outclass everyone.
It offers 40 features which eliminate the use of any other plugin individually for different features.
Unfortunately, WordPress websites are high at risk to get attacked by hackers than any other content management systems, but since the Jetpack is installed web owners are least bothered about the security breaches, due to its fortified security features.
Additional features:
It lightens photon feature to boost entire website speed
It offers site analytics
It offers automation of social media posting
It offers spam filtering
It hunts down malware attacks
It offers login security features to strengthen the defence of a website   
It's greatly recommended by experts for startups and corporate businesses due to its excellent features.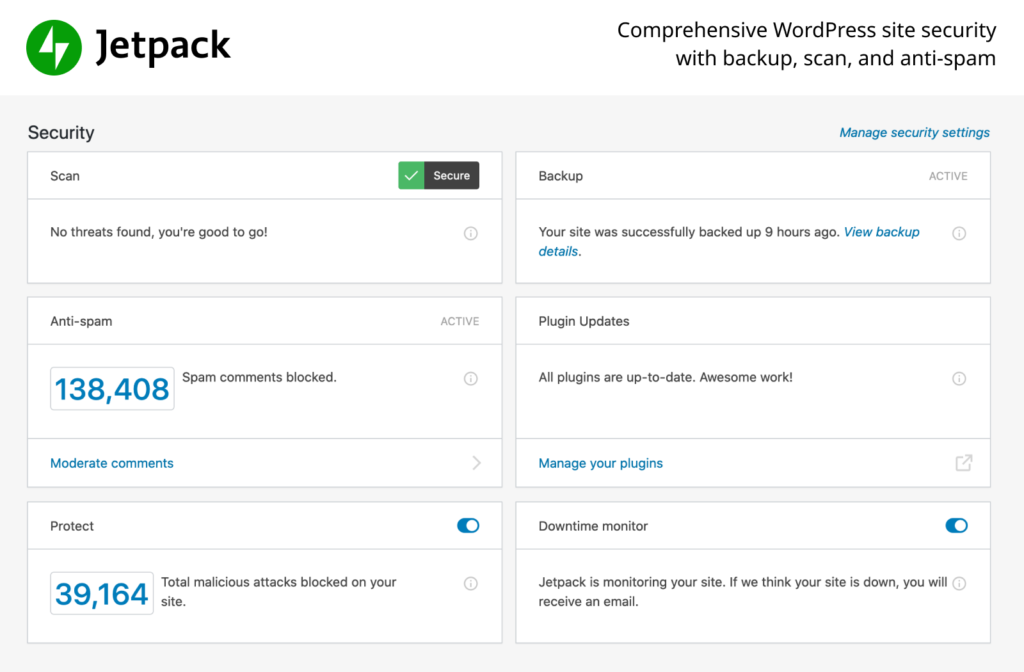 Conclusion
Downloading or installing plugins for every individual function will certainly impact your WordPress website especially in terms of slow speed, a large amount of space, and security issues.
Therefore choose wisely the best plugins for your website to stand up to the mark in terms of SEO, after all these plugins are meant to ease the functionality of a website and rank higher on SERPs to achieve desired results.