Customizer Settings
Skinny is fully compatible with the WordPress live customizer. All the theme-related options reside there so you can have control over your site's customization from one central place.
Panels Quick view
Under
Appearance > Customize you will be able to manage the majority of the theme settings. Options related to the theme layout can be found in subcategories under the theme options tab. For now, let's take a quick look at the Customizer panel.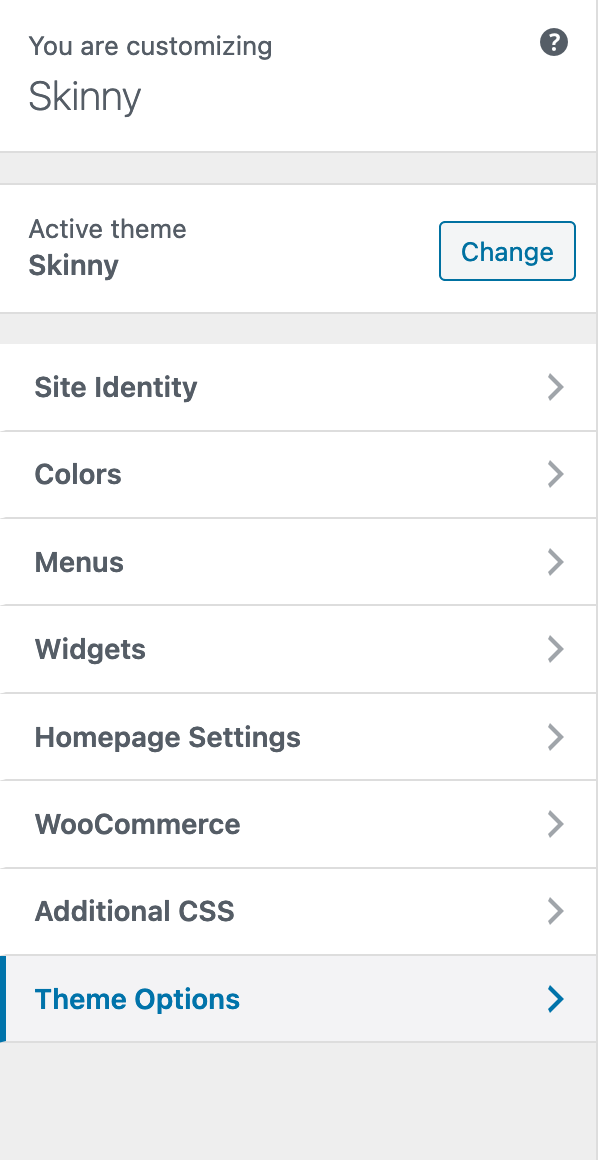 Site Identity
Under the Site identity tab, you will be able to set up your custom logo and retinafy the same logo by showing them at 50% of their original size. In this tab, you can also edit your site title & description.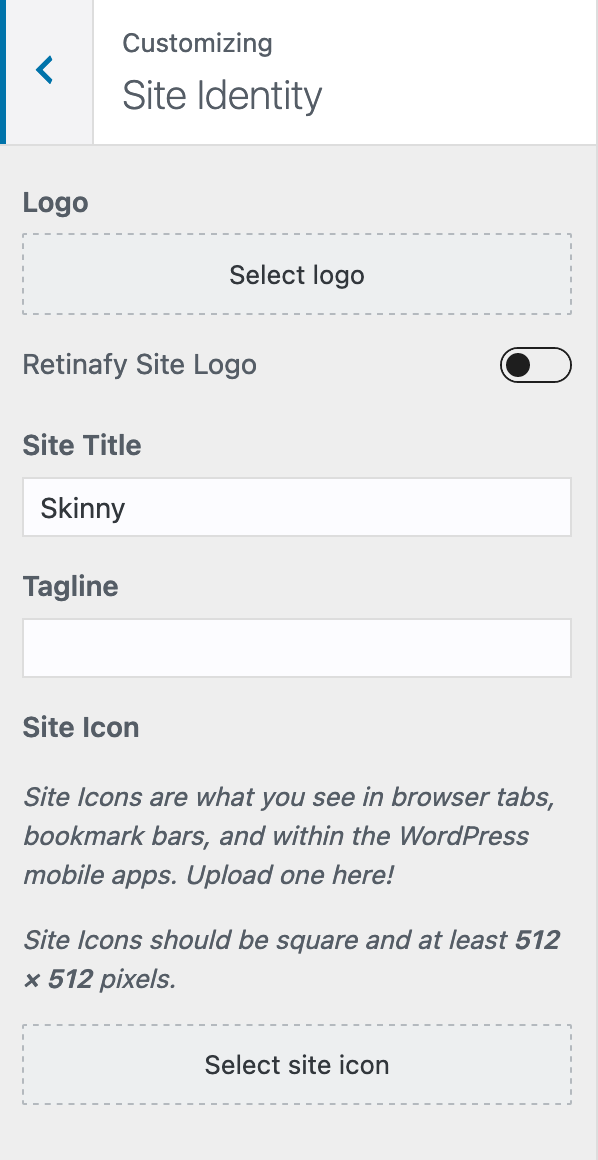 Colors
Under colors you will be able to set your site color scheme (Dark/White). You can also change the color scheme palette by overriding the color options available in each scheme. This panel also includes color selection for theme buttons and their hover behavior.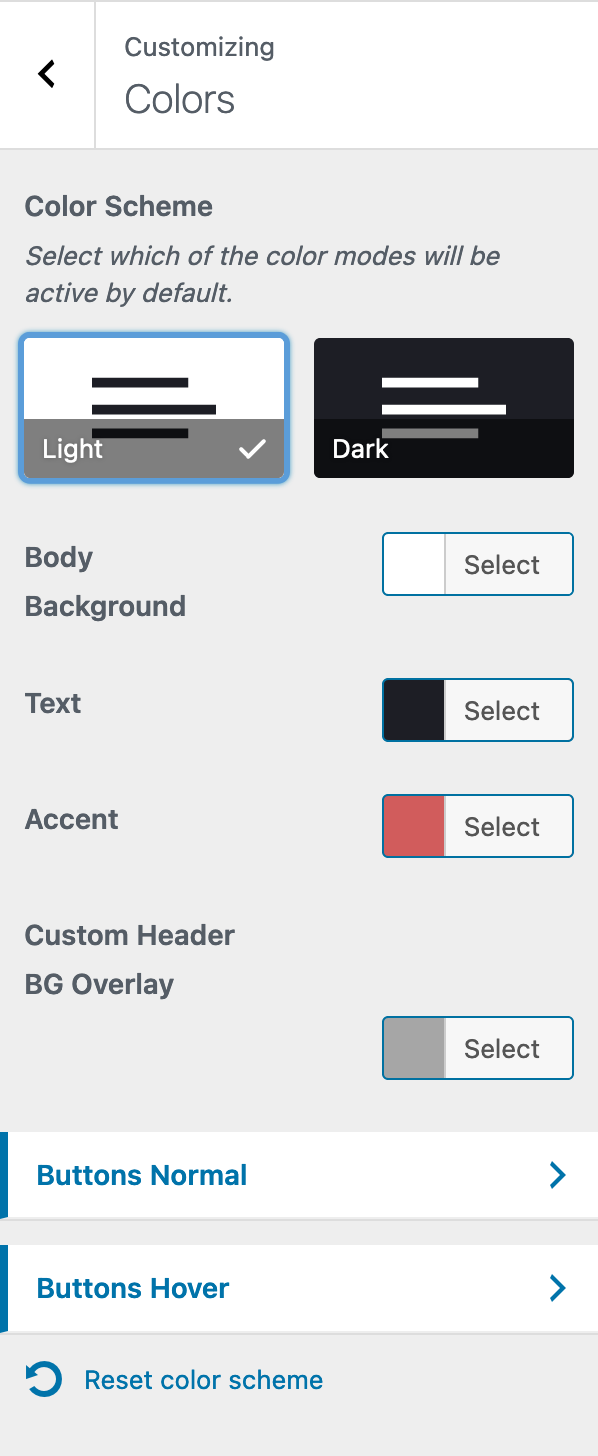 Menus
Under the Menus tab, you can set up your menus. Skinny has 2 menu locations (Primary & Footer). Setting up your menus is standard to all WordPress themes and is described in detail in the official WordPress documentation:
https://codex.wordpress.org/WordPress_Menu_User_Guide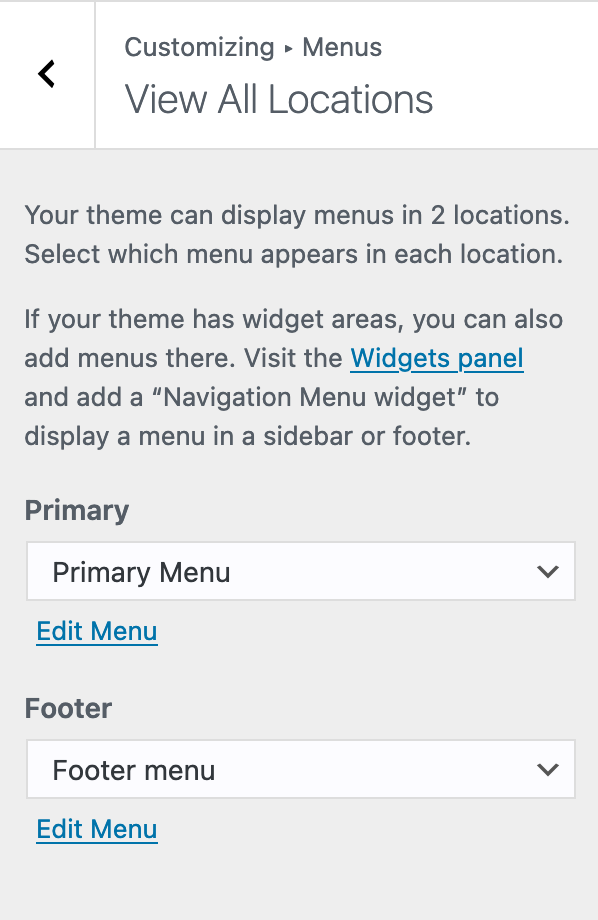 Theme Options
Under the Theme Options panel, you can find all the other theme-related controls and settings. Skinny has a wide range of controls for all of the important aspects of your site namely Typography, Theme Buttons, Layout, Header, Footer & some extra site settings.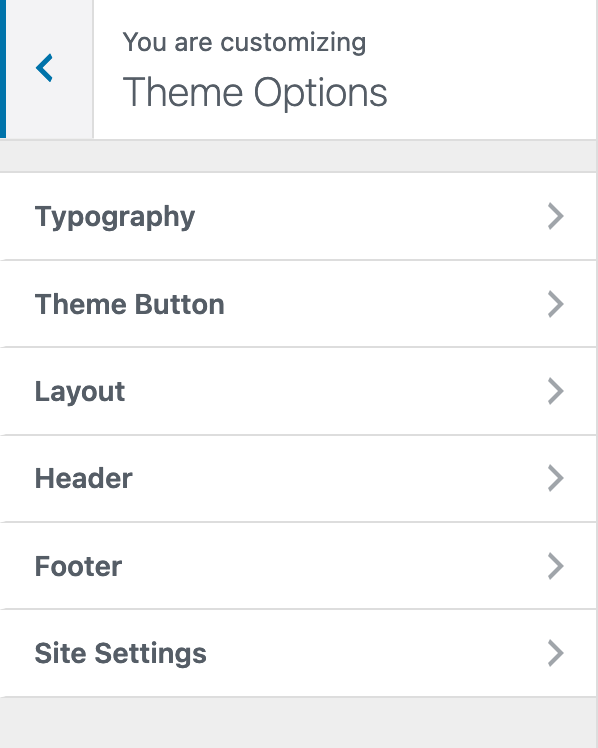 Typography
Under the Typography tab, you can set up the body & headings font from the vast library of Google fonts. You can also control the site font sizes from the font scaling system provided under this panel, which controls both body & headings text used throughout the site.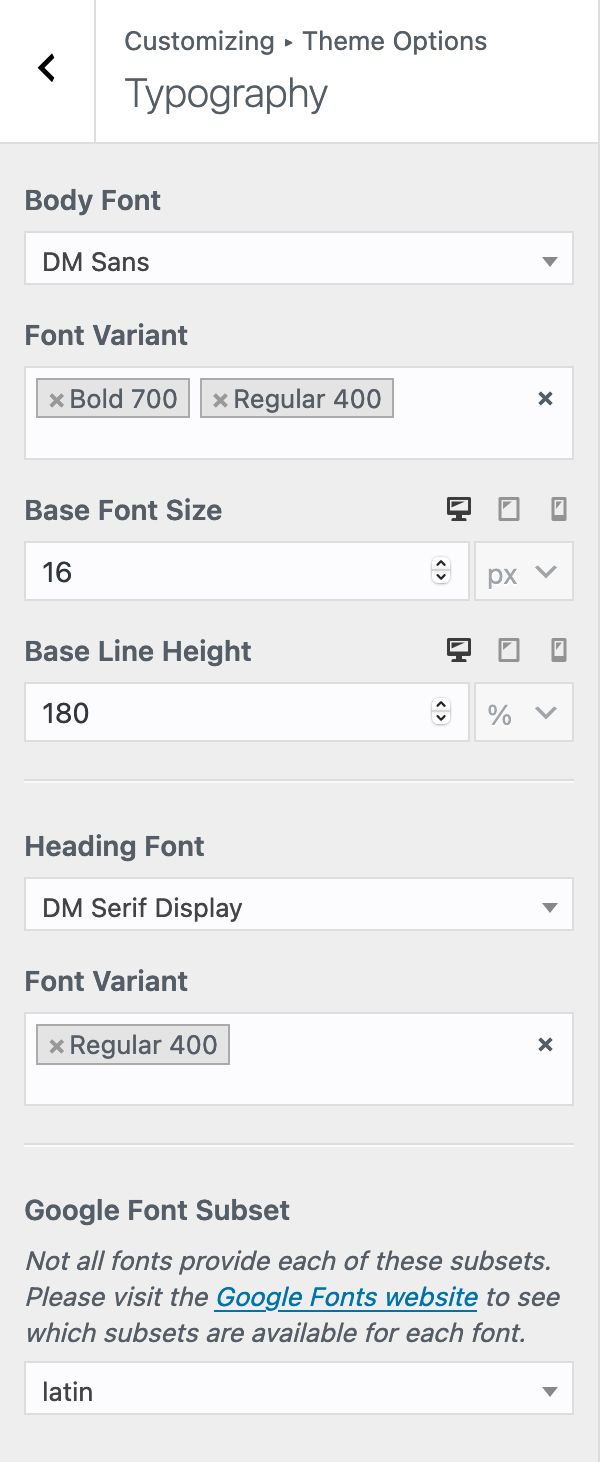 Theme Button
Under the Theme Button tab, you can control the text & border-radius for the buttons used throughout the theme.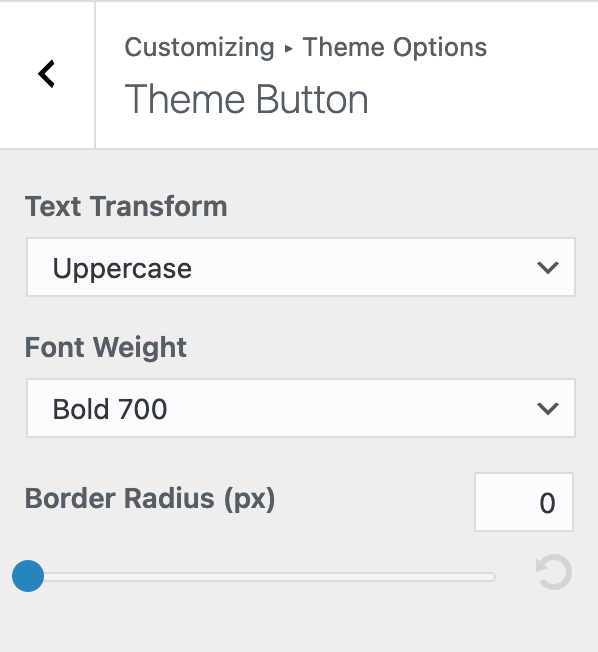 Layout
Under the Layout tab, you can control the content width for singular posts & pages.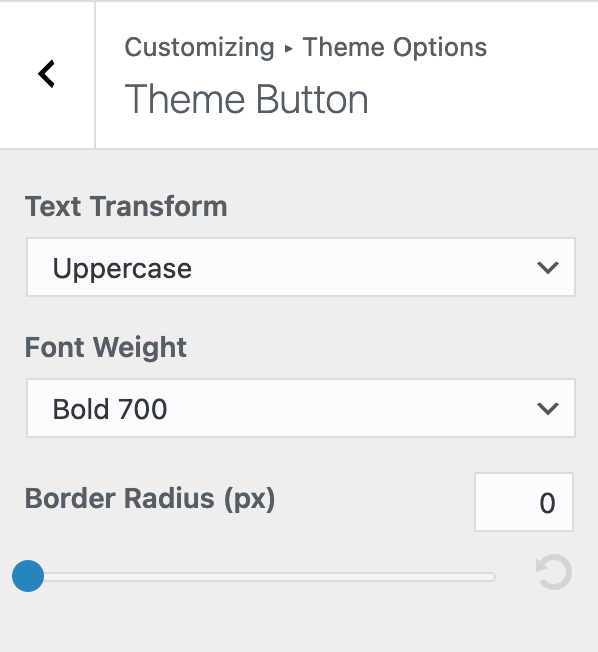 Header
Under the Header tab, you can set the layout of the site header from 2 provided styles (Default & Centered). You can also toggle header magic links such as Search, Cart, Account, Light/Dark Mode.
Footer
Under the Footer tab, you can add a CTA block to the footer, you can find the steps to do so at
here. You can also toggle the CTA block display conditions according to your preference for e.g. at shop & homepage only. You also get the option to control footer widget columns and text at the very bottom.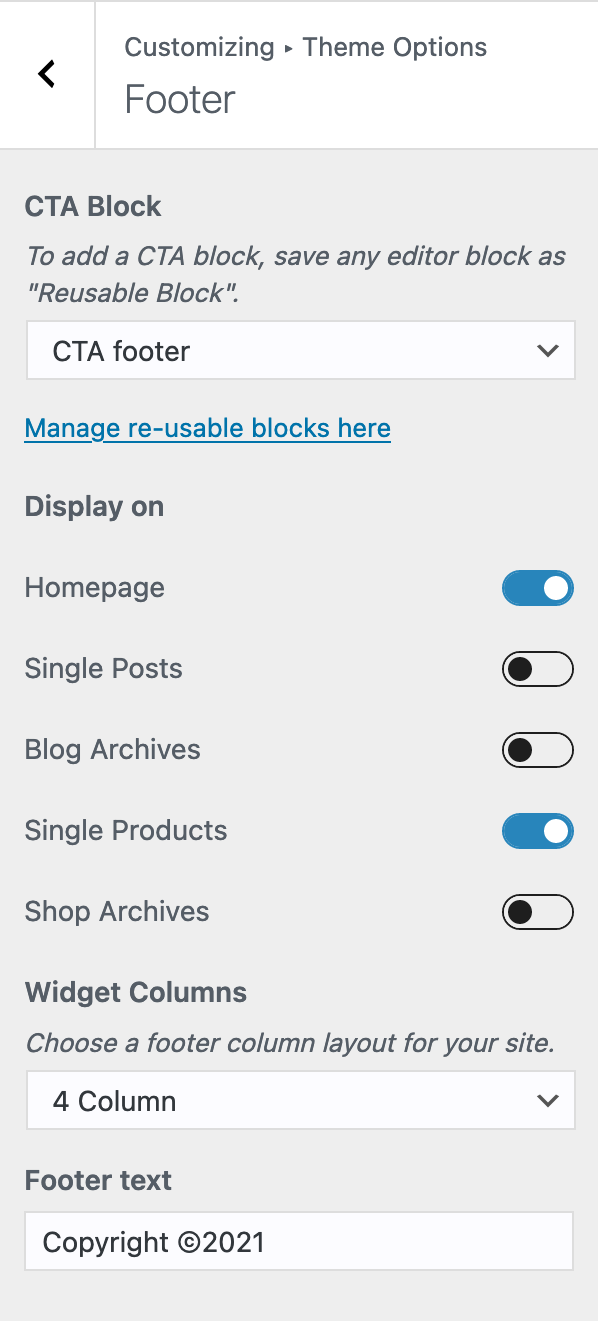 Site Settings
Under the Site Settings tab, you can set a background cover image for the blog and shop header.