At the Customizer, you will also see the Colors tab. This tab has settings regarding the color of several elements. Let's take a look: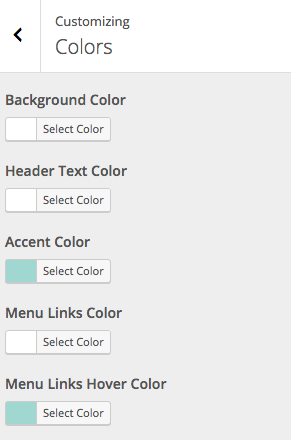 Background Color
This is the color of the body, it will serve as the background color of your site.
We don't actually suggest to change this from white.
Header Text Color
In case you make use of the Header image section, this setting defines the color of the typographic elements that will appear on it.
Accent Color
This sets the color of links and several other elements that might appear throughout the site.
Menu Links Color
This will define the color of your menu links. Especially useful when using the overlay menu option.
Menu Links Hover Color
We have added a separate color picker option for the hover state of your menu links.