Sometimes, you might get an error message that the theme is a "Broken theme and/or stylesheets missing" when trying to upload or activate the theme. This error message doesn't mean that the theme you just purchased is broken. The solution is quite simple. Here are 2 common explanations:
1. You are uploading the Wrong file (most common reason)
From your Downloads page at Themeforest, please click the Download button and select to download the "Installable WordPress File only", as the image below shows: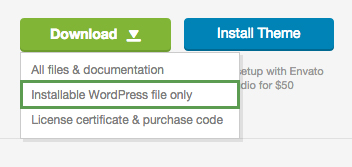 Now, this is the correct zip file that you should upload to your WordPress site. 90% of the times this is the reason why users get the "Missing Stylesheet" error. Try this first.
2. The file is uploaded incorrectly (less common reason)
Follow these steps to fix the issue:
Download the zip file you downloaded.
Unzip the download zip file and you should get a folder
Now browse the content of the folder and you'll see a files name style.css, this means that it is the right theme folder.
Using an FTP client, upload the folder to wp-content/themes folder on your site.
Note: If you do not wish to upload the files manually over FTP, you can zip up the folder under which you located style.css and upload it under Appearance > Themes > Add New and upload the theme.