Section: Static Content
This widget is extremely handy and very easy to use. What it does is to output the contents of a static page. So, just create a static page, add your content, and select the page from the drop down. The contents will appear at the homepage. You can use as many instances of the "Section: Static Content" widget as you wish, in the same page.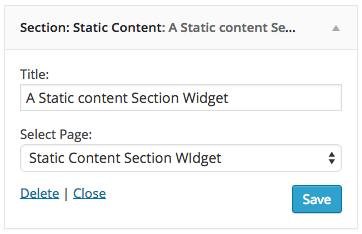 Section: Portfolio
This widget will show the portfolio section. You can also choose how many portfolio items you want to show at the homepage.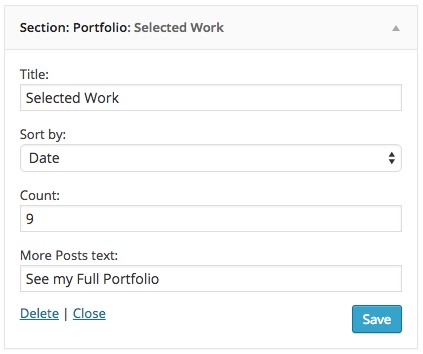 Section: Testimonials
This simple widget outputs the testimonials at your homepage. Nothing fancy to configure here as it will just rotate the testimonials you have created under the Testimonials tab at your admin side.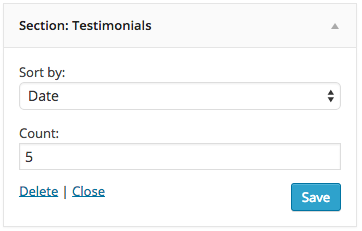 Section: Services
Next, let's add a Services section. As you did previously with the portfolio widget, now drag the
Section: Services at the Homepage widget area. Set the title and an optional link for this section.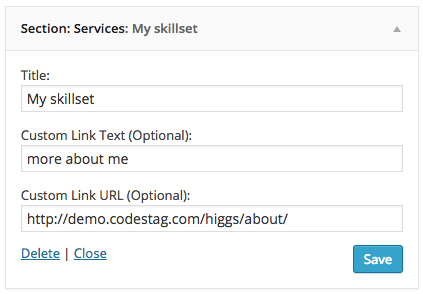 Please note: The "Section: Services" widget will output the features section. But where shall you define which features/services you provide? Let's see how this works.
At the widgets page you will see a dedicated widget section named "Services Widget Area". In this widget section, you should only put "Service Box" widgets, and each of these widgets will represent an individual service/feature. You can use your own icons for each service, by uploading the icons to your media gallery, and then using the image url at the "Custom Icon url" field.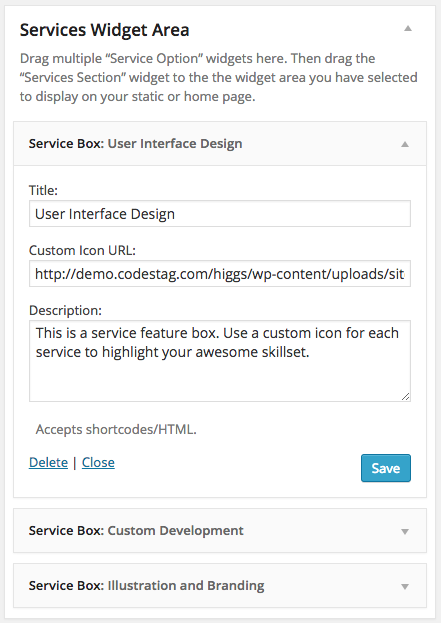 Section: Recent Posts
A simple widget that shows a section with your latest posts.